PAS earns 2018 Nature Works Everywhere Grant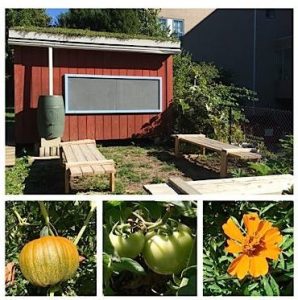 Under the leadership of middle school science teacher, Mrs. Stephanie Kearney, 7th graders will embark on a year-long effort to design and build a living building called the Green House for the school's garden space.  This cross-curricular project between science, math, art, and literacy will take students through the process of designing a building that is space, water, and energy efficient. Students will investigate local issues such as energy and water consumption that affect our lives and the environment. Following set requirements for sustainability and cost, they will use math and art to plan and design a structure to serve as an education hub of our garden. Students bring their prior knowledge of working with scale drawings as they have make blueprints in art and mapped GSI tools on school grounds. They will advance their knowledge to plan something that can actually be built – a "living" garden shed that we will call the Green House.
Once students have completed their designs, they will share them before a panel of community members, including architects, contractors, city officials, and school district administration. The winning design(s) will be adopted and modified for construction. Groups will then focus on particular areas of the process (soliciting materials through persuasive letter writing, developing web-based funding sites, marketing and advertising, informational plaque making, green roof development, building materials investigation, etc.). With the assistance of volunteers from our community, Lowes, the school district, and the city, students will participate in the construction of their Green House. The Green House will serve as the education hub of our garden. Not only will the space be used to house garden tools and supplies, but it will also hold a library of field guides and other books for various grade levels to explore as they spend time in the garden. The space-efficient building will be able to hold a class set of rattan mats for student seating as they learn outdoors. Clip boards, hand lenses, butterfly habitats, and bird seed, as well as microscopes and other environmental science tools, will all be stored in this outdoor classroom space for children to use during outdoor investigations. But the Green House will not only serve our student population – this sustainable school building will serve as a model for other schools and community centers. The curriculum and other planning documents will be made available to all who dream to embark on this authentic and relevant learning experience with their classes. By inviting other schools and community members, the Green House and the students who built it will raise awareness of environmental science and sustainability in our urban space at a time where this education is crucial. The entire process will also be documented with the support of our WHYY media lab – an addition to our school community we received this year. Students will be able to film the process to share with a wide audience at the culmination of the project.
Penn Alexander has been enhancing our garden space since 2015 with the support of the Nature Conservancy. Two years ago, we were able to install an outdoor classroom, plant a native pollinator garden, and partner with the Philadelphia Orchard Project to create an urban orchard on our space. Last year, we were able to being composting as grant funding allowed us to have our compostable cafeteria waste taken to another school district site for processing, and that compost is returned to our vegetable garden creating a completely sustainable system. With the success our garden has seen in the last few years because of your help, we have outgrown our existing garden shed and are ready to bring our space to the next level. Our current shed does have features that we wish to keep, such as a half green roof and rain barrels. We will reuse as many parts of our shed as possible as we construct our new Green House. This not only keeps costs down, but it reinforces sustainable practices.