Music
Ms. Lam
Room 106
tlam2@philasd.org
Music is everywhere at PAS !
Penn Alexander students grades K-8 visit our teacher once a week to explore music and the impact it can have on individuals and our community. Students in classroom music will learn the foundations of music literacy and continue building a lifelong appreciation for the arts. In addition to classroom music, we offer a wide range of elective opportunities – including instrumental ensembles/lessons, choir, and musical theater. Our musicians travel to music festivals throughout the year, representing PAS at events such as the annual district-wide All City Festival. New to PAS this year is a 24-seat keyboard lab, provided by the Music and the Brain program. MATB is a neuroscience-based program that builds music literacy through group keyboard instruction.
The Music Classroom at PAS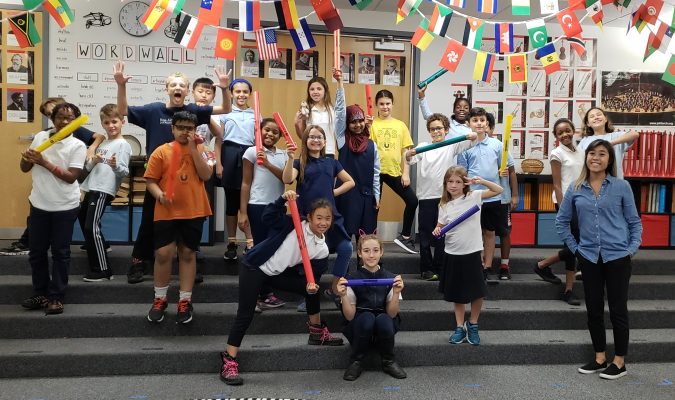 Students in K/1 spend the year building their musical foundations. We explore concepts such as steady beat, melody, and rhythmic notation through song and dance. Instruments are introduced early, and students have the opportunity to play a wide array of classroom percussion instruments. Additionally, K/1 students in the 2018-19 school year will participate in Music and the Brain, a renowned music literacy curriculum developed by educators in the New York City Public Schools.
Grades 2/3 continue building on the skills established in K/1, while also beginning to explore their own musical interests and backgrounds. The focus of our 2/3 curriculum is world music, and students are encouraged to share songs and movement activities from their cultures. We will "visit" countries around the world, celebrating the many vocal, instrumental, and movement-based traditions that make each culture unique.
By grades 4/5 students have a more developed understanding of music literacy, allowing us to further explore vocal and instrumental music. Students in these grades participate in a year-long class choir, with an emphasis on developing healthy vocal technique and appreciation for their voices. We also begin exploring instrumental music outside of the percussion family, and students will receive group instruction on both woodwind (recorders) and brass (pBuzz) instruments.
Middle School classroom music is project-based, with students exploring popular topics through a series of multi-week units. Projects cover subjects such as musical theater, music recording/production, music composition, and piano/guitar instruction.
Vocal Music at PAS
Vocal music is not limited to the classroom, and students in grades 4-8 are invited to participate in one of our extracurricular ensembles. The PAS Concert Choir is a group of dedicated individuals in grades 4-6 that rehearses once a week before school. The ensemble performs at our Annual Winter Concert in December, and also forms the chorus for our Spring Musical. Students in grades 6-8 have the opportunity to participate MS Singers, a small ensemble that meets twice a week during elective period. These students receive individualized instruction designed to increase their vocal abilities, while promoting healthy production and technique. Students in both our choral ensembles sing music of all traditions, including (but not limited to) classical, contemporary, musical theater, spiritual, and jazz.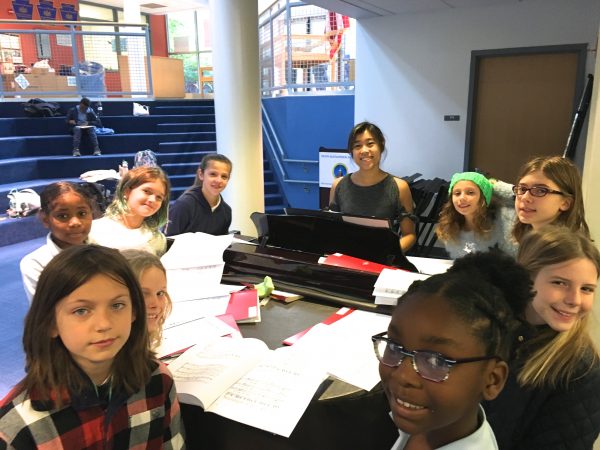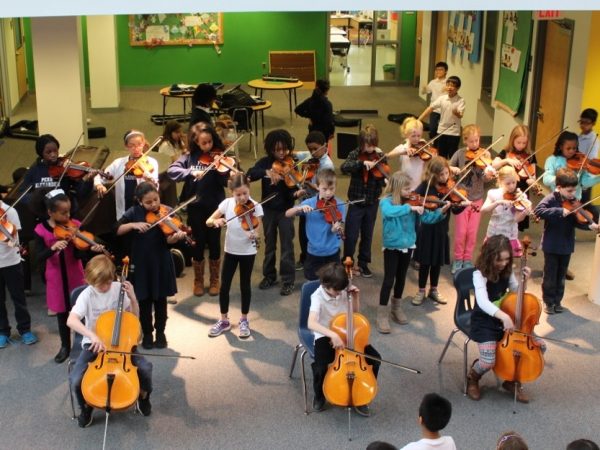 Instrumental Music at PAS
Students in classroom music begin playing percussion instruments in Kindergarten, gradually exploring the various instrument families through the years.
In addition to our classroom instruction, PAS offers a separate instrumental program for strings, woodwind, brass, and percussion instruments. Our itinerant teachers Ms. Wilkinson (strings) and Mr. Bechtold (band) visit 2x per week, giving lessons to students in grades 3-8. Students in our orchestra and band perform at the Annual Winter concert, and combine to form the pit orchestra for our Spring Musical.
Strings Instructor
Nina Wilkinson
nwilkinson@philasd.org
Brass & Woodwinds Instructor
Walter Bechtold
wbechtold@philasd.org