Art Program
Ms. Rutledge
Room 308
krutledge2@philasd.org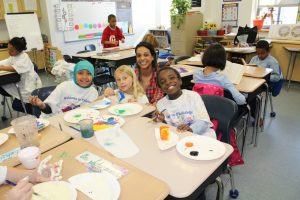 Our Art teacher is Ms. Rutledge, who works with students in our Lower School and Middle School.   Kindergarten and first graders learn the foundations of art during the Fall semester. They will be introduced to and develop a greater understanding of the concepts of line, shape, color, texture, space and form  in respect to visual art as they develop their drawing skills. During the Spring semester, each grade level will embark on different paths.  Kindergarteners will learn and share about their own culture, as well as appreciate and practice art in diverse cultural traditions while "traveling" around the world.
First graders will learn about and practice the many styles of art – such as Impressionism, Cubism, Abstract Expressionism leading up to contemporary artists. Second graders continue to master foundational art concepts, with an emphasis on form, while learning about more contemporary artists. They will have the opportunity to create small three dimensional forms inspired by Alberto Giacometti, Alexander Calder, Dale Chihuly and more.
Third graders will experience a variety of art making processes and work with diverse materials ranging from drawing to printmaking, sewing and paper mache as they learn about diverse cultural art traditions. They will close the year by creating personal artwork. Fourth graders will explore the relationship between geometry and art, and will spend the Fall practicing balance, abstraction, space, form, and scale to help them prepare to create a 3D vision for their neighborhood community.
The students in the middle school  will use art as a way to learn about themselves. They will practice their drawing skills and work towards a portfolio ready self portrait inspired by artist Kehinde Wiley.