Art Program
Mrs. Durant
Room 308
krutledge2@philasd.org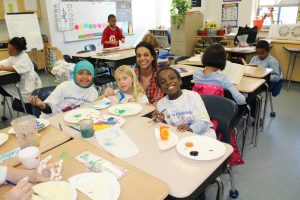 Our Art teacher, Ms. Durant works with all students at PAS. Our art program offers students a well-rounded education that teaches students the elements and principles of design so students can develop fluency in an artistic language.
Kindergarten and first graders learn the foundations of art during the Fall semester. They are introduced to and develop a greater understanding of the concepts of line, shape, color, texture, space and form in respect to visual art as they develop their drawing skills. During the Spring semester, kindergarteners learn and share about their own culture, as well as appreciate and practice art in diverse cultural traditions while "traveling" around the world.
First graders begin the year practicing artist habits and discovering "What Artists Draw." In the Spring, First graders discuss and practice art inspired by Impressionism, Cubism, Abstract Expressionism and Pop Art.
Second graders continue develop foundational art concepts as they explore and understand artistic choices with projects inspired by contemporary artists such as Yayoi Kusama, Romero Britto, Eric Joyner, Dale Chihuly and Greg Mike.
Third and Fourth graders practice drawing, painting, printmaking, sewing, clay, and work with textiles as they learn about diverse cultural art traditions, architecture and design.
Fifth and sixth graders explore art history and apply themes, practices and techniques from Modern and Contemporary artists.
Seventh and Eighth graders further develop drawing, painting, 3D design and printmaking processes while expressing themselves and understanding art worlds.
In addition to seeing Mrs. Durant once a week, middle schoolers can participate in art electives such as Portfolio Prep, Printmaking,  Illustration and Set Design for the annual PAS Musical.
Follow PAS Art on Instagram:
@MsRArtroom